The recent release of Final Fantasy VII Remake has brought the franchise back into the limelight for many of us long-time fans, and seeing the characters revitalised with so much expression and detail has got me thinking about the different characters through all the games I have played, and which of those are my favourites! This will be a list focusing on the protagonists and party members of the games, and not other important characters, so without further ado, here's my ranking of the best Final Fantasy characters!
10. Garnet
Someday I will be queen, but I will always be myself.
Garnet Til Alexandros XVII of Final Fantasy IX is the princess of Alexandria, adopted daughter of the maddened Queen Brahne, and love interest of protagonist Zidane. One of the most remarkable things about her character is the personal growth that she goes through as the game progresses.
She and Eiko are both white mages and summoners, so many players will probably lean towards one or the other instead of using both equally. Personally I always found Eiko annoying, so Garnet was always the white mage for me! Considering her role in the party and the story on the whole, she is certainly one of the best party members in IX in my opinion.
---
9. Terra
What am I feeling? What's going on? Please… tell me. Who am I? Who!?
I always found Terra to be an intriguing character, with so much personal growth and development. She suffers from amnesia, so you actually get to know her as a character as she gets to know herself and discovers her past.
I think you really get invested in Terra as the game progresses, and honestly I think that's a pretty impressive feat considering the low tech nature of Final Fantasy VI. Without 3D models and cutscenes with voice acting, you are largely left to your own imagination to flesh out the characters, creating a character in your head where you decide how they sound and how they look, so the fact that Terra and her story continue to be one of the main characters that stand out for me simply has to be mentioned.
---
8. Freya
To be forgotten is worse than death.
Freya is another character from Final Fantasy IX, and she is my second favourite character in the entire game. I have always loved the Dragoon class in the series, so I was instantly taken with her as a party member – but I also think she has a great design. Considering that her race means that she is in fact an anthropomorphic rat, she actually looks really mysterious and stylish.
She is a character who has faced her own fair share of tragedy having lost both her true love, and her hometown. A large segment of the game is focused on trying to save Burmecia, and then Cleyra after the former fell to the attackers. I would even go so far as to say that this part of the game that was so heavily focused on Freya and her people is one of my favourite parts of IX, if nothing else it is definitely one of the parts that sticks in my mind the most.
---
7. Lulu
No matter how dark the night, morning always comes, and our journey begins anew.
Calm, collected, and cool, This is the best way to describe Lulu the black mage of Final Fantasy X. She is a guardian to the summoner Yuna, but also has a deep personal relationship with her, acting in many ways like a big sister to the young pilgrim.
She is a poster girl for goth mages everywhere with her all-over black style, and she is undeniably cool when battling! In battle Lulu will often make amusing little quips to her opponents as she casts powerful spells at the. "Anyone thirsty? Need a light? Don't look so shocked. Let me break the ice." These are just some of the quotes that Lulu can use as she casts her water, fire, thunder and ice spells.
---
6. Yuna
I've… learned how to smile… Even when I'm feeling sad.
Oh Yuna … Final Fantasy X was the first FF game that I really got into. I had played others before but this was the one that reached into my heart and put Final Fantasy among my most treasured franchises. Yuna was a big part of that.
Quiet and meek, but strong-willed, Yuna really was an amazing character. As a summoner, she could call mighty Aeons to her side to assist in battle. This was something I always loved to do, particularly for the amazing summoning sequences, and the amazing special attacks they could pull off! She also acts as the white mage for the party, but thanks to the Sphere Grid levelling up system, you really could mould her into whatever character you wanted her to be. I personally liked to make her a white/black mage hybrid so that she could heal the party and then deliver devastating offensive spells!
I loved her role in the story, particularly as I think X has one of the best plots that we have seen so far in Final Fantasy. The summoners were tasked with making a pilgrimage across the land to pray for the strength to defeat Sin, an ever-present threat who haunts the world. This is the basis for the story as you travel from temple to temple to collect the Aeons who sleep there before eventually making your way to defeat Sin, and making some shocking discoveries!
---
5. Aerith
I won't let you do it! The future is not only yours!
So originally I had 9 characters in mind and was trying to think of the 10th. As much as I like Aerith, I wasn't sure if I wanted her on the list or not. After playing through quite a lot of the VII Remake, not only is she absolutely on this list, but she is No. 5!
If you know anything about the Final Fantasy games, then you will probably know what happens to Aerith, but I won't mention that here – just in case. I liked her in the original game, but I think that's all I could realistically say about her. She was a nice enough character, but I certainly didn't feel like she was all that useful in the party. Her combat skills were always somewhat lacking so I would always find myself choosing other party members over her.
But all of that changes now. VII Remake has given Aerith a whole new lease of life, with her combat potential completely reworked, and I actually really enjoy switching to her in combat to make the most of her magical abilities.
Combat isn't the only thing that has been fleshed out for her! Seeing her with so much vibrant personality is a real treat, and I feel the remake has really done her justice! In particular, playing through the Wall Market chapter has been such a pleasure, and I don't think anything could have prepared me for Aerith's entrance after getting all dolled up for presentation to Don Corneo!
---
4. Vivi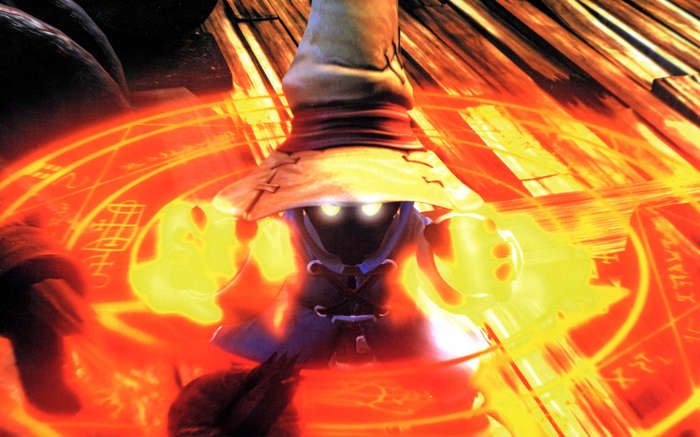 How do you prove that you exist…? Maybe we don't exist…
Vivi, the best character in Final Fantasy VIII without a shadow of a doubt. Rocking the classic Black Mage appearance of a shadowed face with glowing eyes, blue coat and pointy brown hat, his story is one of existential crisis. He doesn't know what he is or how he fits into the world.
Vivi starts off as very shy and withdrawn, completely lacking confidence and even being quite clumsy. He grows to be brave and more than capable by the end of the story. The relationships he builds with the other party members are strong and meaningful, Zidane becoming like a brother to him, and even the arguably unlikeable Steiner formed an endearing bond with the little mage.
---
3. Auron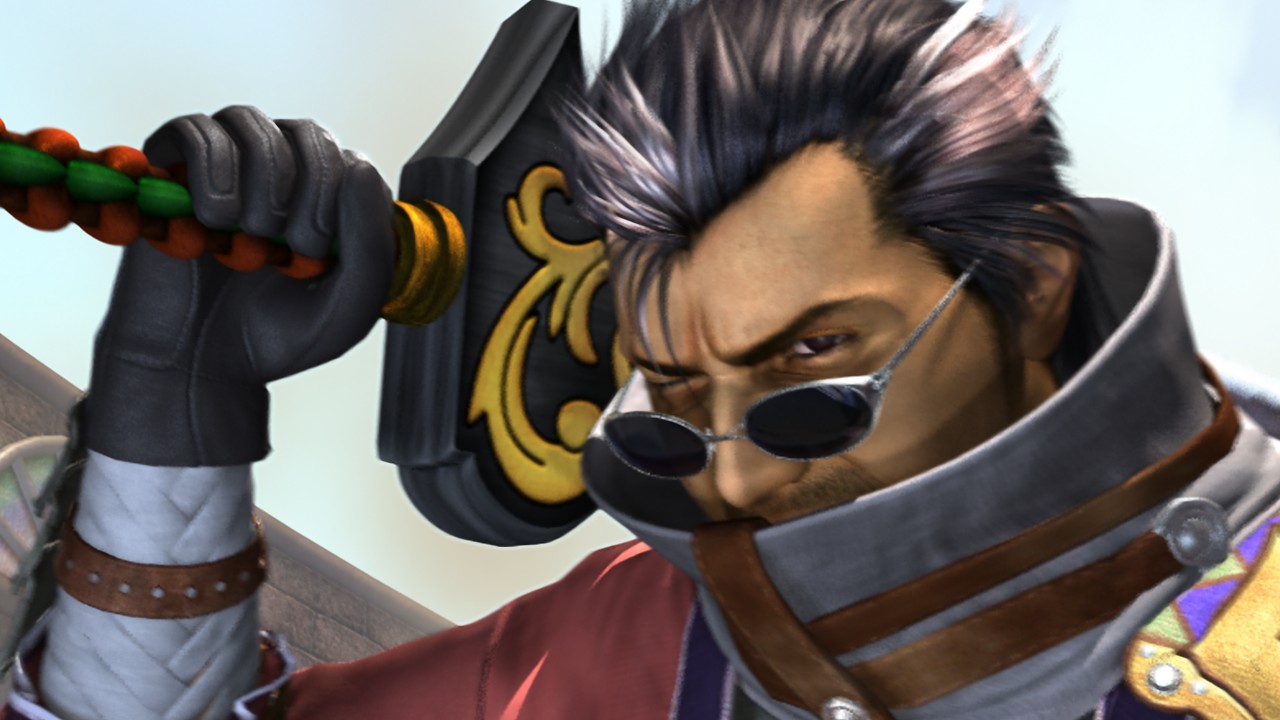 Guard your emotions first, then guard your summoner.
My favourite character in Final Fantasy X, Auron is quite frankly … one tough cookie. An experienced warrior, a previous guardian of Yuna's father who was also a summoner, and a quiet but assured bastion of strength and experience for the rest of the party.
Sometimes characters in Final Fantasy can feel quite similar to previous characters that have been seen, or at least follow very similar trends. But I feel like Auron really stands out as one of the unique warriors of the series. Auron appears similar in many ways to samurai, as he wields katanas, uses bushido, and seems to have many other traits and quirks that link up well with samurai.
I have always considered Auron to be one of the strongest characters, both in terms of literal strength and as concept of character.
---
2. Quistis
You know, the boys often choke on this test when I come with them. I guess my charm makes them nervous.
Quistis was an instant hit with me. She means business in battle with her whip, she looks cool and stylish, and as a blue mage she is able to learn many different abilities from the many enemies found in the game, which makes her one of the best characters to keep in your party if you ask me, particularly once you get Quistis to learn … Bad Breath!
At the beginning of Final Fantasy VIII she is an instructor in Balamb Garden, where Squall is her difficult and hard to approach student. She frequently finds herself failing to get him to open up to her, demonstrating an awkward relationship to start with. Although she loses her position as an instructor, she maintains her somewhat authoritative figure in the party by acting like a big sister towards the others.
---
1. Squall
Everyone has to take care of themselves. I don't want to carry anyone's burden.
Squall is without a doubt my favourite character from the Final Fantasy franchise, and I've often felt like he is so under-appreciated. His weapon of choice – the Gunblade – is a gun and a sword in one, he has a stylish appearance, a great rivalry with his fellow classmate Seifer, even an epic opening cinematic that shows them battling and giving each other matching scars!
But the best thing about Squall is his character development in the game. He is quiet and standoffish, never letting himself get close to anyone. But over time he warms to the people around him, opening up more, and slowly learns to express his true feelings to those around him.
---